I want to create an attack list by listing phone numbers of major convenience stores
There is a certain number of needs for collecting telephone number lists, sales lists, attack lists, and teleapolitical lists for telephone sales to major convenience stores.
In terms of the number of stores, the major convenience stores are 7-Eleven, Family Mart, and Lawson, in that order, followed by Ministop, Daily Yamazaki, Seicomart, and NewDays.
Seven, FamilyMart, and Lawson, the top three companies, have nearly 50,000 stores nationwide.
Since there are so many stores nationwide, if each convenience store can be targeted for sales, you can expect a considerable amount of sales.
However, if you buy a convenience store attack list from a vendor
It costs about 1 yen to 10 yen per case.
So, if you want to get a list of 50,000 items from the three major convenience stores, you'll need a budget of about 50,000 to 500,000 yen.
If you want to get a teleapolist right away, that's fine, but you want to keep your budget as low as possible.
There is also the question, " Is that attack list fresh? "
Convenience stores are a fast-paced industry.
Listing companies do not always have the latest business list, and it is often the case that the situation has changed significantly if the list is half a year ago.
If you're going to make a tele appointment anyway, you'd like to operate using the latest store information.
This time, we will introduce how to efficiently collect the sales list of convenience stores nationwide.
Create a business list using i Town Page
The most famous way to create a business list is to use i Town Page.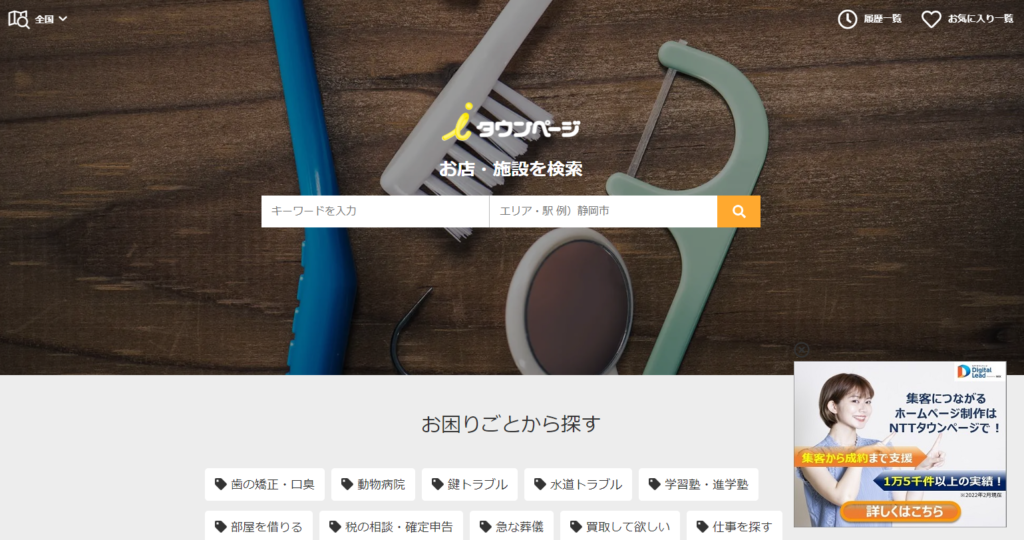 i Town Page is a major site that can be used to create an attack list, which is said to cover 8 million store information nationwide.
However, the way to use i Townpage is a bit problematic.
Accurate store information cannot be obtained from i Town Page
If you try searching for "Family Mart" on the i town page, you will find completely irrelevant information.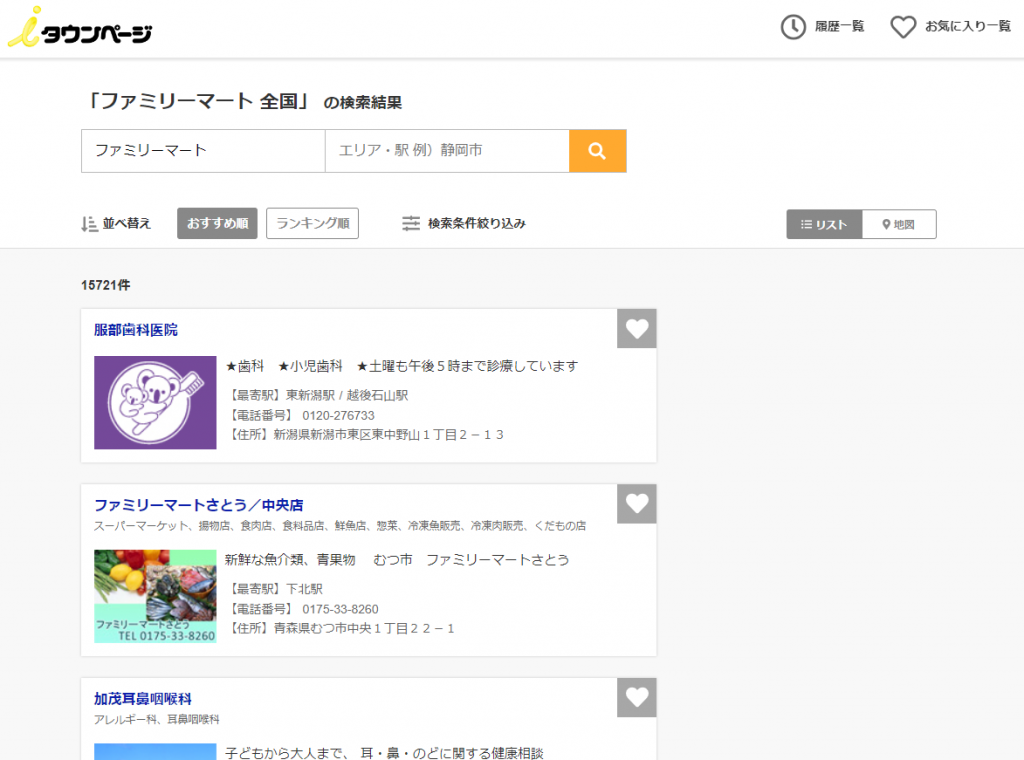 I want to create a FamilyMart sales list, but it outputs completely irrelevant information.
With this, it is not possible to create an attack list for each convenience store company.
There is a problem with the freshness of the list
The i Town Page list is operated and managed by a company, but the freshness of the information is unknown.
In other words, even though I made a list, it's all about closed stores.
Furthermore, there is no information about the new store.
That's what it means.
Convenience store business list can be easily issued
Actually, you can easily output the convenience store list.
That's how you use Google .
Try searching for "Family Mart Shibuya Ward" on the map.
* For those who don't know, here is the Shibuya-ku Family Mart link.
Then, a list of Family Mart like the picture will be displayed.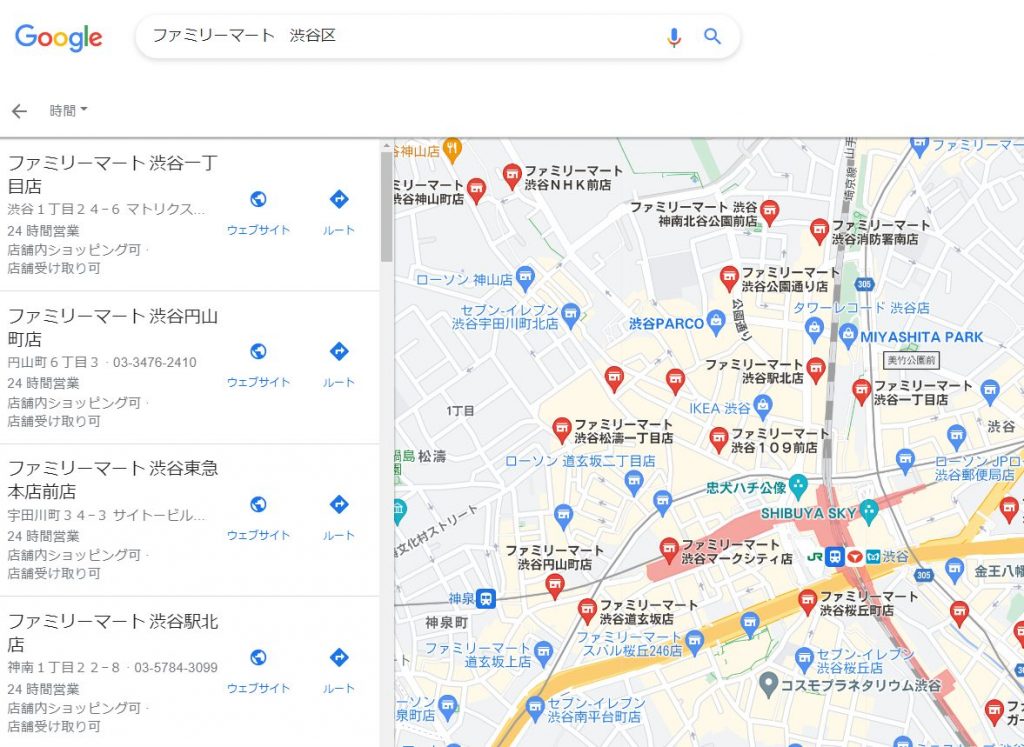 Why should you use Google to collect your business listings?
By the way, Google also publishes information collectively like the i Town page, right?
I think some people are worried about the freshness of information.
However, in the case of Google, there are many reviewers all over the country.
they are free
Introduce the information you show to Google
Publish new store information
If the store is closed, apply for closure
write a review
I'm doing
Therefore, it can be said that there is no site that publishes a list of convenience stores better than Google at the moment .
Tips for Accurately Collecting Information on Major Convenience Stores from Google
I know how to create a business list from Google, but I need a trick to collect store information accurately.
Did you notice that I entered "Family Mart Shibuya Ward" instead of "Family Mart" and the name of the convenience store in the map search earlier?
Of course, even if you search for "FamilyMart" only, the store will be displayed.
However, there is a difference in the number of cases.
So, search for "Family Mart + area".
This will give you a more accurate FamilyMart store list.
Turning a convenience store list into a teleapolis list requires a lot of effort to tally
I have already explained that this method can collect the latest convenience store information quite accurately.
All that's left is to collect them, but there's one problem here.
It's the cost.
For example, if the hourly wage is 1,000 yen and the staff works, it would be better if the number of cases that can be collected is 100 per hour.
That's $10 per item.
It costs 500,000 yen to create a business list of 50,000 convenience stores of 3 major companies.
Here's how to use the sales list collection tool.
Sales list collection tool IZANAMI can collect lists at a low price
The sales list collection tool IZANAMI can collect unlimited sales lists for 5980 yen per month.
It is possible to collect information faster and more accurately than humans.
Moreover, once it is set, the list will be collected without neglecting it.
All you have to do is check the collection status once a day.
The cost is 1/100, and the labor cost is almost zero.
Free gift of 2000 business listings
IZANAMI offers a trial version that allows you to give away 2000 sales lists for free.
Please feel free to apply using the form below.