When you want to sell your company's products, there are things you need to develop new customers and achieve results.
That is the " sales list (company list) ".
Drop-in sales, tele appointments, direct mail, mail DM sales, and fax sending sales.
No matter what kind of sales you do, you first need a sales list, and in order to sell your products, don't you deal with prospective customers one by one?
Recently, content marketing has become popular, but in order to conduct such sales, it is necessary to prepare leads for information dissemination and closing using SNS.
In addition, there is also a disadvantage that it takes time to grow prospects.
Therefore, it is very important to prepare a sales list (company list) and conduct sales.
You can easily obtain a list of company information by using a sales list distributor or an information research company such as Teikoku Databank, but the list itself becomes quite expensive.
New employees who have just joined the company, beginners who have just started sales work, and venture companies have a small budget that can be used, and I think it is true that they do not want to spend as much money as possible.
If so, why not create a sales list from a site on the Internet?
What kind of sales list can be said to be ``easy to achieve results''?
So what kind of sales list is actually effective?
For example, let's say you are a sales manager for a system development company.
System development applies to all industries.
However, if you try to collect a list of all industries nationwide, no matter how much time you have, it will not be enough.
In such a case, it would be a good idea to find out where the needs are.
For example, imagine a website production company.
The company that undertakes the production of the homepage manages inquiries from customers and receives consultations from clients about new sales systems, but they may refuse because they cannot develop systems.
In that case, you may be able to develop an unexpected sales channel by selling to a website production company.
It's easy to create a sales list that is easy to get results if you explore what your company needs like this.
Where to find a successful sales list
Once you have some idea of what your needs are, the next step is how to create a successful sales list.
"i Town Page" is famous for creating business lists.
It is said that about 8 million company lists are registered on i Town Page.
It looks like a great place to build a sales list.
Actually, the current i Town page is not very suitable for creating a company list.
Many companies create their company listings from iTownpages, which dilutes the value of the listings.
About 18 million companies and store information are posted on Google
So what kind of information should we collect?
In fact, there are media for collecting the most familiar sales lists.
It's Google.
It is said that Google has about 18 million company lists and store lists.
And since Google currently manages company information with a high level of accuracy, it can be said that it has gathered quite accurate company information.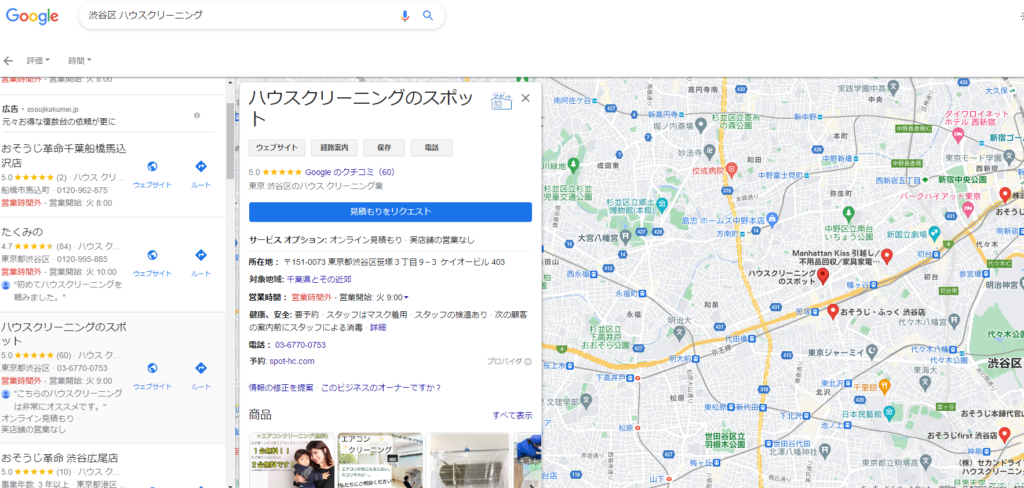 For example, if you search for "Shibuya Ward house cleaning", you will find that highly accurate information is posted.
Disadvantages of creating a list from Google
At first glance, list collection using Google search seems to be versatile, but there are actually disadvantages.
① It is very difficult to collect the list
As you can see by actually doing it, creating a list from a Google search is very time-consuming.
In the case of the i-town page, the pattern was fixed to some extent, and the information posted was almost never duplicated.
However, in the case of Google, the contents posted depending on the search words are completely different, and many duplicates appear.
For example, search results for "Shibuya Ward House Cleaning" and "Shibuya Ward Cleaning Business" will vary greatly, and many duplicates will appear.
② Unable to collect e-mail addresses
There is another important issue.
That is, Google cannot collect email addresses.
Collecting e-mail addresses is convenient because it reduces the time and effort required for door-to-door sales and tele appointments.
However, there are no companies or stores that register email addresses on Google.
IZANAMI, a tool that allows you to create a sales list that produces results
Actually, there are tools that can improve these problems.
That is IZANAMI, a company list creation tool.
IZANAMI is equipped with a function to remove duplication, which is a headache when creating a business list, and a function to automatically search and complete email addresses from the Internet.
You can collect unlimited data for 5,980 yen per month, so if you are creating a sales list that can produce results, why not consider it?
We are currently offering a trial version that allows you to present a business list for free.