This time, I will introduce whether the real estate search site athome is suitable for creating a business list, how to easily create a business list using athome, and recommended tools for creating a business list.
Recently, content marketing has become popular, and the so-called pull-type sales method that leads to company content through SNS etc. is gaining popularity.
However, such methods
If the conductor is not perfect, it will not lead to closing
Building content is very hard and time consuming
You need to encourage your prospects to approach you
Such invisible risks exist.
Creating a sales list is a so-called push-type conventional sales method, but depending on the content of the list, it can be said that it is a very effective sales method because it allows direct sales to potential customers.
What is athome?
First, let me introduce you to At Home.
A comprehensive site for real estate information [At Home] is full of real estate and housing information such as market price information, real estate company search, as well as rental / purchase property search. We will support your search for comfortable housing. If you have real estate and housing information, please leave it to At Home.

Quoted from athome's official page
About 56,000 real estate companies listed at home! ??
At Home is a long-established real estate company registered service with 4,365 stores in Hokkaido/Tohoku, 26,130 stores in the Tokyo metropolitan area (Kanto), 8,779 stores in Chubu, 7,171 stores in Kinki, 3,218 stores in Chugoku/Shikoku, and 6,402 stores in Kyushu/Okinawa. (according to June 2022).
Many real estate companies post property information.
With such a large scale site, you have an image that collecting sales lists is easy.
At home if you want to create a sales list specializing in real estate
I don't think it's an exaggeration to say that.
A service that can list the latest information from Google
Before introducing how to create an at-home sales list, we will introduce a service that allows you to create the latest sales list from Google.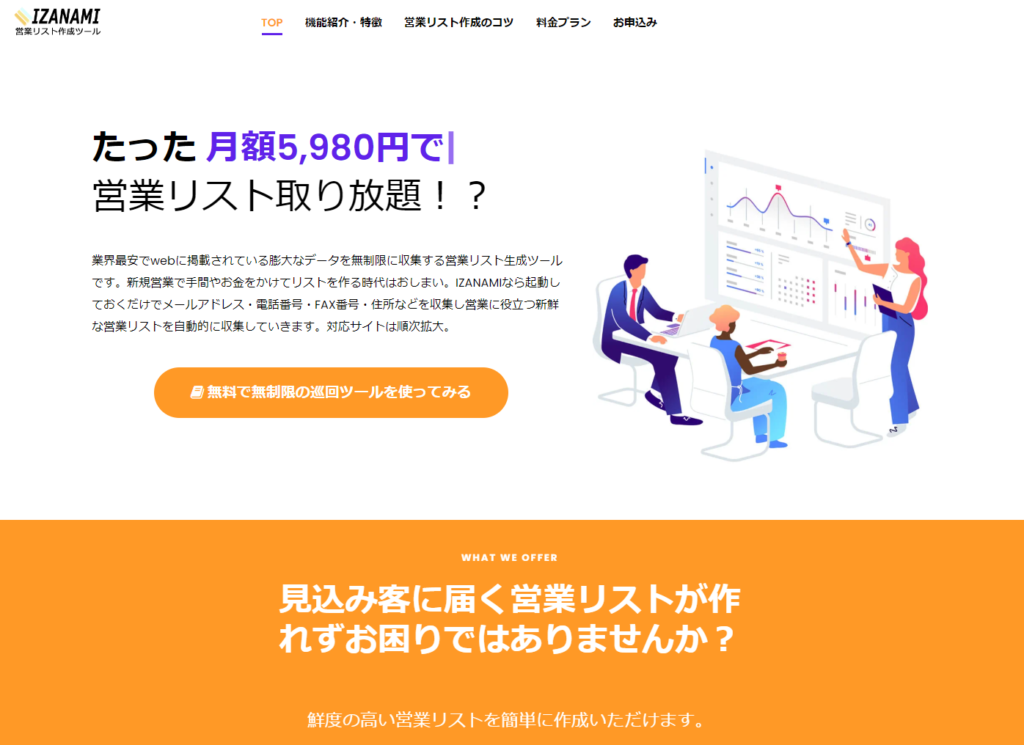 IZANAMI is a tool that can collect company information published on the Internet by region and industry.
For example, in addition to information on real estate agents that specialize in real estate leasing and real estate trading, you can also collect information by narrowing down to detailed areas and industries, such as information on real estate companies limited to Tokyo.
Managed by Google, the accuracy of the business list is high, and it is easy to collect lists of companies that are not normally open, so it is recommended for creating lists.
A service that can make at-home a business list
The number of real estate listings is top class, but did you know that there is a service that makes it easy to list?
This time, we will introduce a service that allows you to easily list store information posted on At Home.
URIZO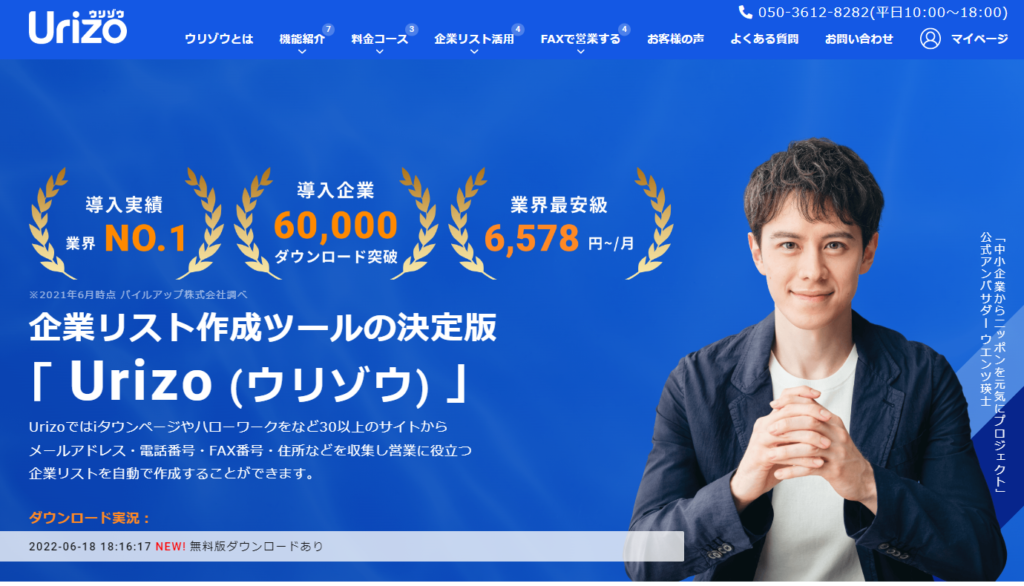 It is a long-established store list collection tool operated by URIZO Co., Ltd. Sales Support.
We use celebrities in our advertisements, which gives us a sense of security.
From 10,978 yen per month to 10,000 lists per month can be collected from home.
The appeal of URIZO is that you can easily collect data by selecting categories and regions.
You can also get an approximate number of how many data you can collect with just a click.
As a difficult point, is it necessary to set each time because the number of collections per month is fixed and the number of collections that can be collected at once is fixed?
coco list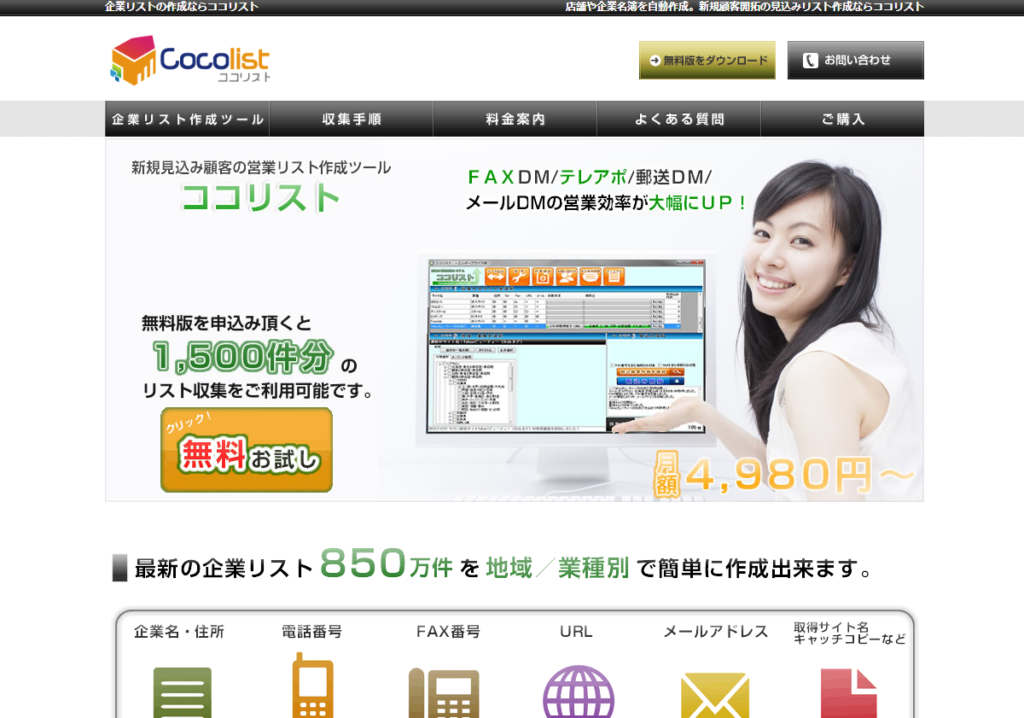 Cocolist is a service that allows you to collect 5000 athome posting information as a business list for 4,980 per month.

There are 44 compatible sites, but there are many overlapping site categories.
For example, Hello Work, Mynavi, Jobsense, Baitoru.com, an, aidem, DODA, Rikunabi NEXT, etc., there are so many in the recruitment category. The content of job information is often duplicated on other sites, so if you look at the actual number of acquisitions, it may not be that many. If you use it, the light version and the standard version will be enough.
Can you create a successful sales list from home?
I introduced that there is a lot of information posted on homely, which looks quite attractive, but is it possible to create a sales list that can actually produce results?
Many lists may be created using athome
In the sense of creating a sales list that specializes in real estate, athome can be said to be useful because information on various domestic top-class real estate companies is open to the public.
However, At Home is designed to make it easier for users to search.
In other words, it is also a service that is easy to list.
In other words, there is a possibility that you receive sales contacts from that many companies.
Such companies may be tired of many sales calls, and it may be difficult to get an order just by contacting them normally.
How to create a sales list that delivers results?
In order to produce results in creating a sales list, it is important to have "a lot of prospective customers registered" and "a company that is not doing much sales on a regular basis".
In short, company information that cannot be easily listed is important.
Did you know that there is actually a way to create such a list?
IZANAMI, a sales list creation tool, allows you to search and collect unlimited information about real estate companies from Google.
Moreover, it not only searches for information on Google, but also collects missing information that exists on the Internet and creates data using its own algorithm.
The monthly fee is 5,980 yen , which is very reasonable, and now we are giving away the list for free , so if you are a company that wants to strengthen your business, please consider it.
For
Athome has a lot of company and store information, making it easy to create a sales list.
It is easy to create a list, so there are many tools on the market, and it may be difficult to achieve results.
IZANAMI , which can create a sales list based on Google, is also recommended.